Cicada, A 17-Year Phenomena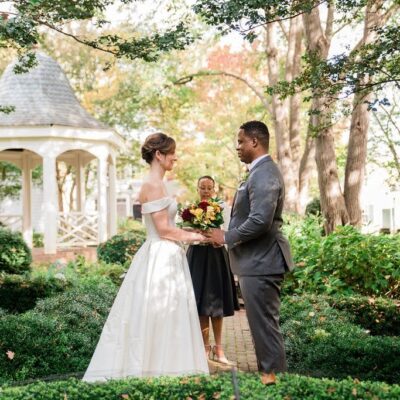 Photo courtesy of @santaanaweddings
When I think about outdoor weddings, I think about several factors that can impact the ceremony. Noise from traffic, airplanes flying overhead, an unhappy guest (usually under the age of 5) and the general laughter from the guests. This summer I may have to contend with the noise of the billions of cicadas expected to descend on the Washington, D.C. metropolitan area. The phenomenon happens once every 17 years. Cicadas are alive underground eating tree roots for sustenance. As the ground warms up and reaches 64 degrees, the bugs begin emerging in mass. "The District, Maryland and Virginia are likely to host more of these animals than any other of the 14 states that share the experience." The wildlife will begin its eating frenzy. Birds, squirrels, chipmunks, skunks, ants, raccoons, snakes, frogs and possums will over indulge on cicadas. Be aware when you are walking your dog, your furry friend may try to consume a cicada or two.
Preparation for Cicadas?
So how do you prepare for your outdoor wedding knowing that possibly millions of these uninvited guests will crash your celebration? Unfortunately, you can't avoid them.  But, there are a few things you can do. Here are 4 suggestions to make it easier to deal with these unwanted guests:
Be prepared for the noise.  Hopefully, your DJ will adjust the volume of the music to try and drum out the buzz.
Make sure your wedding officiant is wearing a mic to help with projection. If you can, have mics for you and your partner as well.
Rather than stand on the ground, lay an ornate area rug or throw on the ground for you and your partner to stand-on during the ceremony.
Ask the venue coordinator if someone can canvass the area maybe 15 minutes prior to the start of your wedding ceremony to sweep away any cicadas or the remnants of cicadas from the immediate area where the guests and bride party will congregate.
I think we can all agree that cicadas can be a distraction during your ceremony. Luckily, they are harmless.  Personally, I will be more focused on mosquitoes at dusk aiming for whatever exposed body part they can bite. I still remember years ago being in tears after I being attacked by mosquitoes. Thankfully, once I returned to my car, I was able to take an antihistamine to calm the itching. Definitely not a fun experience!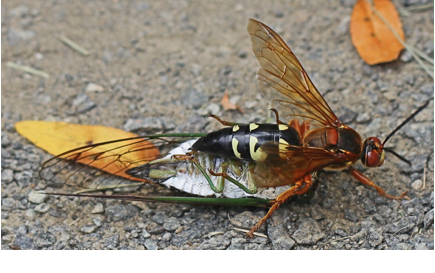 Bottom Line
Remember to focus on the reality you are marrying the person who complements you, the person you plan to spend the rest of your life with. Think that in addition to all the wedding related memories, on your 17th, 34th, 51st and so on anniversaries, you will be joined by a generation of cicadas whose ancestors witnessed your "I do" the summer of 2021!