In general terms, the word engagement is defined as "an arrangement to do something …commitment…the continuous development of an emotional relationship."
But within the wedding industry, the word engagement typically refers to the special moment when couples confirm their proposal to get married.  Engagement season typically spans between Thanksgiving and Valentine's Day with December being the most popular month to get engaged.
Recently, I was chatting on the phone with a couple planning to marry late this summer. From the first minute, I knew I liked their energy! It was a Friday evening, the end of the workweek, a week that got the year's first snowfall followed by a dusting of snow earlier in the day, yet we were all energized. Towards the end of our 44-minute conversation, the groom-to-be asked me about my approach to staying engaged with them so that I can better know them and them, me.
I hadn't thought about an approach of engagement with couples because it comes naturally to me.  As a guest at a wedding many years ago, I witnessed a ceremony conducted by an officiant who didn't seem to know the couple standing before him. His dialogue was vague and generic and this triggered me because I always understood the role of the officiant to be one of connection.  That experience reinforced my commitment to really get to know each couple that I have the honor of standing with on their wedding day.  I want to know about them, what makes them smile, how they spent their holidays, what they have planned for their weekend. And I share with them, as I understand that this is a collaborative relationship. Many know how blessed I am to be a grandma and that I'm a huge Nats fan! I ensure that we stay connected via social media, text and email, and occasional calls. My engagement with couples doesn't simply end on their wedding day.  I enjoy learning about their growing family, trips, and accomplishments. And sometimes I even share in their loss..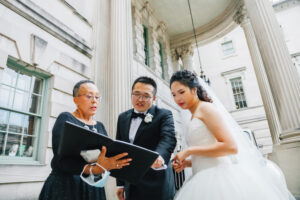 When you are deciding who will share your personal space on your wedding day, one piece of advice I can share is to remember that you want someone who is invested in you. It really does make a difference. You want your guests to know that someone took the time to learn about you and your preferences. Your officiant should know your love story and the ceremony should be reflective of the sentiments in your heart. Every ceremony script I craft has a specific couple in mind! Your wedding day is a once-in-a-lifetime experience. Make it memorable by ensuring your officiant is truly present for you! If you're interested in engaging with me and learning more about my service offerings, please visit my Civil Marriage page.