Consider an Outdoor Spring or Summer Mini-Wedding in DC., Maryland, or Virginia
Happy Spring! Warmer temperatures, blooming trees, shrubs, perennials and annuals are calling many of us to the great outdoors. We are walking, biking, and going from point A to point B on a scooter or skateboard. We are sitting on the grass, with and without a blanket or on the steps on famous and infamous buildings taking in the beauty of the DMV (District of Columbia, Maryland and Virginia). The pandemic is keeping all of us closer to home which is allowing us to explore our neighborhoods and others' neighborhoods.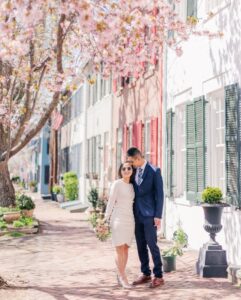 This calendar year I've asked couples to meet me outdoors at local parks for their mini-wedding ceremony. During the pandemic, although I prefer officiating wedding outdoors for safety reasons, I have taken steps at indoor ceremonies to protect the couple and me such as standing at least 6 feet apart and opening windows when possible. Of the 40+ mini-ceremonies I had the privilege of officiating the first quarter of 2021, less than 10% were conducted indoors. My couples are quite flexible which makes me appreciate them so much.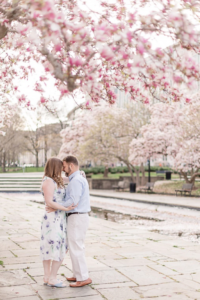 Outdoor Venues in Old Town Alexandria and The Potomac
In the Old Town Alexandria area, you could find me officiating an intimate wedding ceremony at the public gardens at The Carlyle House Historic Park. What a hidden gem! I also met couples at the Alexandria Waterfront Park which is always alive with people, children and dogs. Jones Point Park offers scenic views of the Potomac River along with MGM National Harbor Resort and Casino; National Harbor; the Ferris Wheel; and a replica of Air Force One. There is so much to Jones Point Park to explore. The Woodrow Wilson Bridge spans part of the park and the arches of the bridge offer spectacular opportunities for amateur and professional photographers. There's also a lighthouse in the park which is surrounded by flowering trees, perfect for wedding photos.
Another favorite is Green Spring Farm Park in Fairfax County. The Park has two gazebos with totally different vibes that are available for rent. The various gardens are colorful havens and great for wedding photos.
Outdoor Venues and Parks in the District of Columbia
In the District of Columbia, the Tidal Basin, D.C. War Memorial, the monuments, Meridian Park, Hains Point, The Spanish Steps, Rawlins Park and Bartholdi are great choices. Something is always blooming at these parks. Remember beautiful Crepe Myrtles bloom June through September and are just as pretty as Dogwoods and Cherry Trees! 
So, if you are looking for atmosphere, vibrant colors, conversation starters, art works, maybe shelter from them elements for a small, intimate wedding, check out the parks in your neighborhood. You also have the opportunity to "pay it forward" by making a donation to the park!