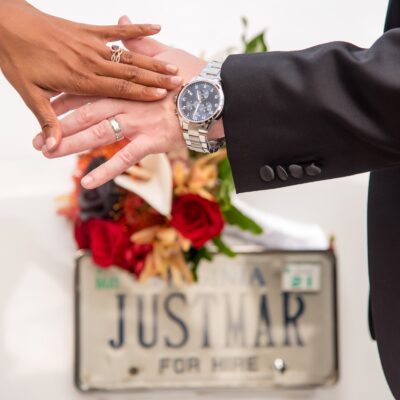 By now you know the name of my business is "With This Ring, I Thee Wedd Ceremonies." When I started my business 29 years ago, I thought those words were so romantic. And I still view them the same way, however, it's a long business name with one-word intentionally misspelled. I've learned over the years from my couples, they don't always want to exchange rings at that moment. Also, maybe because of their career, a ring isn't always appropriate. In Western culture, a wedding ring can be traced to ancient Rome and Greece.
Many couples choose to wear their wedding band on their left hand, fourth finger, typically known as the "ring" finger. Often a bride/groom will move their engagement ring to their right hand prior to the ceremony and afterwards, moves their engagement ring back to the left hand, ring finger. Why? Tradition says there's a vein that runs directly from the ring finger to the heart although science doesn't support this claim. It's a purely sentimental tradition to wear the wedding band closer to the heart.
My Thoughts Regarding My Wedding Rings!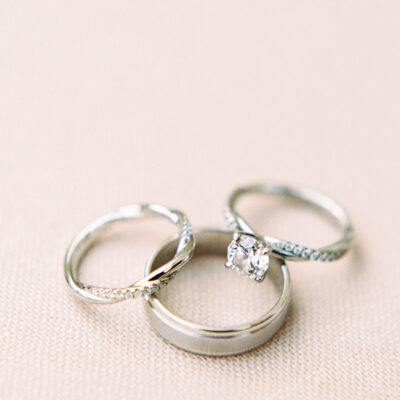 On a personal note, I asked my husband for an anniversary band one Christmas. I thought when we traveled, I would wear that ring and leave my engagement ring and wedding bands home. [Yes bands, I wear my mom's gold wedding bands. I'm terribly sentimental. Floyd wears my stepfather's band.]
Floyd's initial comment after my request was, "Leora, whether you wear a ring or not, you are still married." I gave him a look that said, "really!" Needless to say, Floyd exceeded my expectations and gifted me a beautiful anniversary band. I wear it all the time!
I have reflected many times on what Floyd said about a wedding band. A ring doesn't define my marital status, I do. When I respect the relationship we share, when I read articles to enhance our relationship and share with him what I learned, and when I'm present for Floyd, I'm demonstrating I'm married and committed to the success of our relationship. The ring may say to the world, I love and am loved, but I bet the average stranger could care less about my marital status, they have more important things to focus on.
Sometimes I refer to this passage because it's not about wear a ring, it's about acting a way that respects my marriage, Floyd and me: "Put on then…beloved, compassion, kindness, lowliness, meekness, and patience, forbearing one another and, if one has a complaint against another, forgiving each other…and above all these put-on love, which binds everything together in perfect harmony."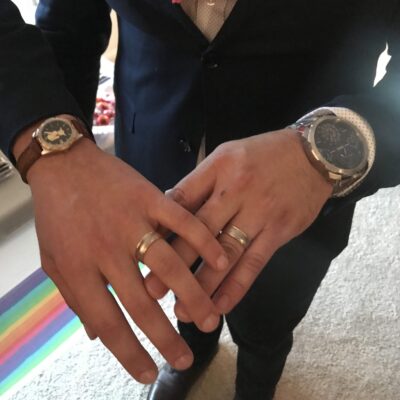 My Challenge to You!
I invite you to think about what your ring(s) means to you. What do you do daily to express to your partner you are committed for life to the success of your relationship? Yes, I mean daily. You are mistaken if you don't think your relationship requires your attention daily. Make a gesture daily to reaffirm your vows and affirm your partner. Don't wait for your anniversary to celebrate each other and your relationship. You, your partner and your marriage are worthy of daily celebrations!